Last week I spent three days in New York City attending the Tools of Change Conference, an annual gathering of innovators and thinkers about the future of publishing. I attended last year so my anticipation was high. Next week I'll give a better summary of what I experienced this year, but today I'd like to just highlight a workshop on collaboration I attended this year called "Booksprints" and why I think it's a way for MennoMedia to become a leader and innovator in our field.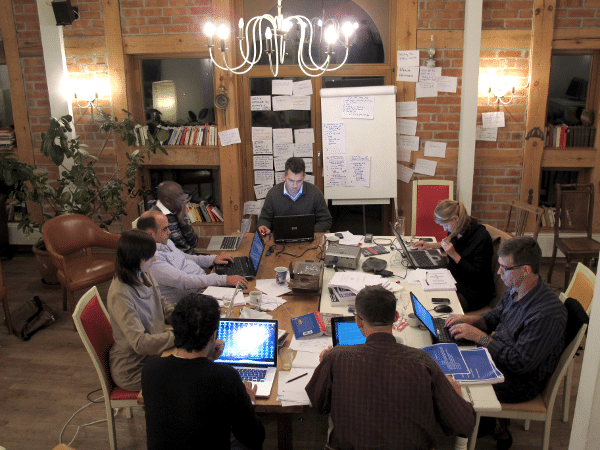 (Photo from Booksprints.net.)
Booksprints is not a technology, but a process, a methodology, which brings together a group to produce a book in three to five days. Considering that the typical lead-time in book publishing is 12-18 months, curriculum is six-12 months and film documentary is one to two years or more, this concept is quite literally counter-intuitive. I was intrigued at not only how they work, but also at how they use open-source software to produce the end product. Considering that an e-book can be produced almost instantly, as soon as the content is ready, and that Print-on-Demand (POD) technology can generate a physical product in a little over 24 hours, this concept completely blows apart the traditional production schedules and lead-times that most of us are used to.
I realize that not all produced content will fit in this model; works of fiction, literature, and other researched topics will still take as much time as authors and content-creators need; but much of our work could benefit from this type of creative process. Imagine bringing together a team of curriculum writers, editors and illustrators for three to five days and in an intensive process, produce a whole quarter of curriculum which is press-ready as they depart. Not only would it make content more up-to-date, but the short lead-time would allow for quicker and faster response to customer feedback. Right now, it may take us three or more quarters (up to nine months) before we can implement a significant change that our customer base may ask of us. I am told that Hymnal: A Worship Book (Mennonite hymnal published in 1992) took a decade to produce. What if we stretched our creative and collaborative mindset and imagined creating a new hymnal in five days? Considering that the longer projects take to produce, the more they cost, this could have the effect of slashing overhead costs greatly and still produce a high-quality product for much less. My dream is that several at MennoMedia get trained in facilitating this type of process and make us leaders in our field—our future. As I heard asked elsewhere last week, "How do you change the future? You change the story that people tell themselves about how the future will be."
  ~Russ Eanes